FREE Weight Training Workouts
Try Our Fitness Software Routines
And Get Super Fast Gains In
Muscle Building and Fat Loss!
Enter your first name and a valid email address
for instant access to the free workout routines.

How to Wear Men's Meggings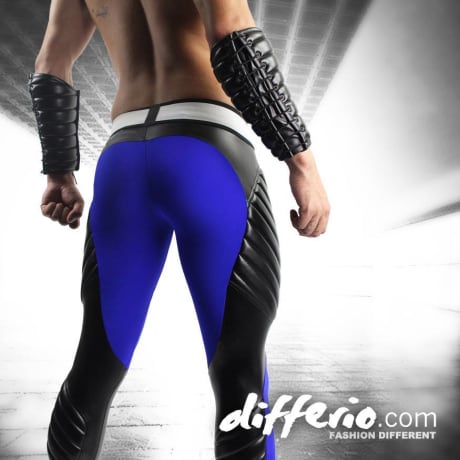 Leggings for men, often called meggings or mens compression pants. These sexy workout clothes, you either love them or hate them, and while many sportsmen are in favour of the end of this trend.  Believe it or not, some people consider them a much-needed activewear staple. As with all sports items, it's all about how you wear the leggings is that makes the whole difference. We talked to online retailer Differio, a trendy men's clothing store based in New York, on how to wear leggings for men. Find out their stylist top tips for wearing meggings during exercise.
Know your curves
Leggings fit tight, that is why they call them tights for men. Moreover no two men bodies are alike, men muscles can vary from the glutes to the legs to the calves. Make sure to get the meggings that fits your body best. If you are the type of men with skinny legs, you might need to consider Russian brand Maskulo, they have a wide variety of muscle enhancing, men's tights. Maskulo as well as other stylish activewear brands are sold on Differio.
What use is it for
While leggings for men are considered trendy, many sportsmen use them for performance activities. As research proves that meggings can improve the person's movement while enhancing muscle movement in action. Therefore the tighter is the fabric, the better. Try the Black leggings Power Superroad for an enhanced workout at the gym. An alternative to leggings is the leg warmers,  often used to keep the body temperature at point, specially in extreme cold weather. Leg warmers are used for outdoor sports activities.
Loose it for more comfort
Some other leggings with loose fit can be used for other activities such as yoga, running or dancing. Some go for joggers instead of leggings. Ballerino wear thick leggings for their performances, while hip hop dancers opt for the joggers with more loose fit. 
Sexy mens fashion leggings
Leggings are also associated with fetish wear. Gay Underwear brands the like of Maskulo, Modus Vivendi and Gregg Homme expanded their categories to introduce leggings with removable cod pouch pieces, and jockstrap bottoms.
Whether you consider it for workout, or a latest fashion for men, one thing for sure, meggings are here to stay.
Click Here For Your Free Fitness Magazine Subscription